Visitors Counter
1156 visitors
Did you know
The first book printed in English, in 1475, was The Recuyell of the Historyes of Troye. by EnglishmanWilliam Caxton.
Laeeq Mushtaq
Incharge Library
Library Information Services
COMSATS University Islamabad
Attock Campus
Near Officers Colony,
Kamra Road, Attock

Free Books
Search, access and download free online books
Mobile App
Explore our library collections using the App on your Android and Apple devices.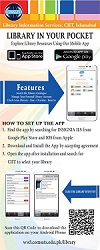 Quote of the day
"Whatever the cost of our libraries, the price is cheap compared to that of an ignorant nation." ― Walter Cronkite